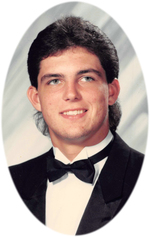 Patrick Lewellyn Long of Newport, Arkansas departed this life on Monday, January 24, 2022, at the age of 50. He was born May 24, 1971, in Newport, the son of Jessie Thomas and Paula (Mitts) Long.
He was a 1990 graduate of Newport High School, where, as a quarterback, he helped lead the Newport Greyhound football team to the 1989 State Championship game. Patrick was a NASCAR fan, who also enjoyed fishing and listing to hard rock music, especially Metallica. His greatest love was spending time with his daughters and grandchildren.
He is survived by two daughters, Jazzmine Baney and husband, Steven of Ft. Lee, Virginia, and Emily Long of Newport; his parents, Tom and Paula (Mitts) Long of Newport; one brother, Kevin Thomas Long of Springdale; three grandchildren, Kambree, Keleshee, and Leland Shawn Baney; many aunts, uncles, cousins, and a lifetime of friends.
Friends may visit at the funeral home, Thursday evening 6:00-8:00 p.m. Funeral services are 2:00 p.m. Friday at Jackson's Newport Funeral Home Chapel with Bryce Shelton officiating. Interment will be in Sandhill Cemetery.
Those honored to serve as pallbearers are Kenny Thaxton, Ike Harcourt, Jay Simmons, Vidal Swanson, Chris Shoffner, Donnie Stapleton, and Jeremy Decker. Honorary pallbearers are Kevin Long, Ginger Carlyle, Timmy Davis, Tom Layton, Kelly Cantrell.