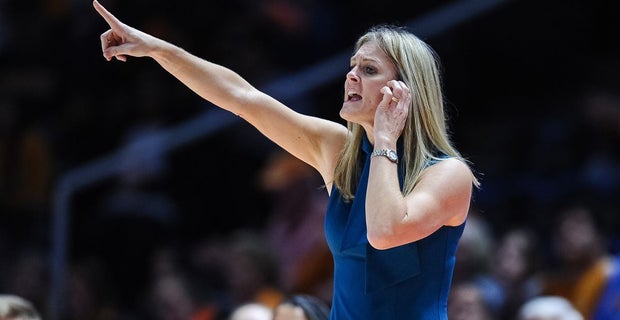 The Lady Vols will look to get back in the win column in the SEC on Monday evening – and the foe will present a formidable obstacle to that goal.
No. 4/5 Tennessee (18-2, 7-1) will host Arkansas (14-6, 4-3) at Thompson-Boling Arena with tipoff set for 7:02 p.m. Eastern (TV: SEC Network). The Lady Vols are coming off two road games with a win at Georgia and loss at Auburn and will get right back on the road with games at Florida on Thursday and UConn on Sunday.
Arkansas enters with a three-game winning streak after convincing and high-scoring double-digit defeats of LSU, Mississippi State and Alabama. That was preceded by a nine-point loss to South Carolina and a 20-point win over Missouri.
The Lady Vols won the first matchup between the two teams, 70-63, on Jan. 2 in Fayetteville in a game that more resembled rugby than basketball. In the second meeting, both teams may try to present a few wrinkles.
"I think anytime you're playing a team for the second time, you've got to prepare for something different," Tennessee Coach Kellie Harper said. "You know what they do, but you've got to prepare for something different. I think Arkansas is playing great right now. They're playing with a lot of confidence, and they look like a different team than when we played them, so we have to prepare for their best."
— Tennessee Athletics (@Vol_Sports) January 30, 2022
The Lady Vols stumbled a bit with the 71-61 loss at Auburn – and the Tigers promptly kept the "Tennessee effect" in effect with a sky-high win followed by a crash and burn 81-66 loss to Vanderbilt in its next game Sunday. It's also the "SEC effect" in which any team can seize a win on any given game.
"That was a very physical game if anyone needs a refresher," Arkansas Coach Mike Neighbors said, referring to the Jan. 2 matchup between the Razorbacks and Lady Vols. "We had a lead going into the fourth quarter and weren't able to hold onto it. I think we learned a lot from that game that we can improve on. We've got to defend without fouling. That was the game where we had five people foul out."
The projected starters for Arkansas are Makayla Daniels, a 5-8 junior guard from Frederick, Maryland, who averages 15 points and 5.4 rebounds and has connected on 32 three-pointers; Amber Ramirez, a 5-9 redshirt senior guard from San Antonio, Texas, who averages 13.8 points and 4.2 rebounds and has connected on 48 three-pointers; Sasha Goforth, a 6-0 sophomore from Fayetteville, Arkansas, who averages 11.2 points, 5.3 rebounds and 1.8 blocks per game; Samara Spencer, a 5-7 freshman guard from Fort Lauderdale, Florida, who averages 10.7 points and 3.1 rebounds and has connected on 36 three-pointers; and Jersey Wolfenbarger, a 6-5 freshman guard from Fort Smith, Arkansas, who averages 7.0 points and 3.5 rebounds and has  connected on 14 three-pointers.
The previous game against Tennessee showed the Razorbacks "that we can play with them," Neighbors said. "There were so many great things that we did in that game. And the things that we didn't do, they're all correctable."
Arkansas' review of the Tennessee game also included a session about foul calls with the coordinator of women's basketball officials.
"We learned a lot about technique from our officials' coordinator," Neighbors said. "I sat with her with film, and she gave me some really, really good feedback on what we could improve technically to maybe not get called for so many of those fouls. We've been working on that and, I think as a result, you're starting to see some of that in the games. We've not fouled as much. Our technique is better.
"It takes a game like that to realize you can stand up. You can fight. You can hang in there. We hung in there against a really physical team, and now we improve our technique and improve our approach, and there can be noticeable benefits to that if we do all those things at the same time."
An interview with Arkansas Coach Mike Neighbors is available HERE on the Razorbacks' website.
After the first matchup, Tennessee players noted that the Razorbacks' strategy seemed to be to foul repeatedly. It was an approach that frustrated the Lady Vols – along with some of the no-calls and ones assessed to players in orange – and even more whistles could have blown in that game had officials called all of it.
Finally got a chance to rewatch this @LadyVol_Hoops game vs. Arkansas. This was called against @keyennoel. ?? pic.twitter.com/ocjYBmcBNp

— Maria M. Cornelius (@mmcornelius) January 9, 2022
The Lady Vols lost one of their most physical players in Keyen Green – the player in the video clip – who tore her ACL against Georgia on Jan 23. Green's absence in the post became readily apparent against Auburn, especially when Tamari Key got in foul trouble. As far as who relieves Key now, Harper said "that's going to be situational."
"Each team and systems that we play may lend to different people," Harper said. "We're going to have to utilize a lot of different people. Obviously, Emily (Saunders) had some minutes. Karoline Striplin had some minutes.
"We could go small. Play Sara (Puckett) and Alexus Dye. We can play four guards with a post in there. I think we have options, and I think those options are going to be very situational – and how we practiced and what it looked like leading up to. I think that's important as well."
Tennessee is back to full strength at the guard position. Kaiya Wynn missed the Auburn game with an ankle injury, and the freshman guard was back at practice over the weekend.
"She had an ankle sprain and then rolled it again," Harper said. "We're trying to work her back in, but she's been pretty limited. She was limited at practice on Saturday, so we'll see. We've got to be careful with it. It's one of those things that's going to be aggravating her the rest of the year, and we've got to figure out that happy balance of how to get her back into some practices without causing any more damage."
Tennessee prep for Arkansas tomorrow. Lady Vols looking to bounce back from their first SEC loss pic.twitter.com/JVKfymnq6H

— Cora Hall (@corahalll) January 30, 2022
The loss to Auburn disappointed the staff and players, and Friday was the mandatory off day last week, so the team could not retake the court until Saturday, although Harper noted that some players found the gym on their own Friday to take extra shots.
"The loss on Thursday was tough for all of us," Harper said Sunday. "It's been a long three days here. Our team took it hard. I think they have a pretty good mindset; I think they have a pretty good attitude at this point. One of the hardest things that happened was we had an off day on Friday. When you lose a basketball game, you want to get back out there with your team. You want to practice, and you want to try to get something and move on.
"So, we were able to have a really good practice on Saturday, and hopefully, they're still feeling good about what we're doing."
Saturday also included a film session – Sunday's film session was to scout Arkansas – and it included a breakdown of the Lady Vols' 22 turnovers.
"We watched them all," Harper said. "There were some that were just issues with our spacing offensively. There were some that were people just trying to do too much. There were some careless mistakes, and then there were some just not reading the defense.
"We talked about it. We worked on it in practice as well. Also, just being very specific with our players in film session and even asking – it's not scolding them for it, they know they shouldn't have done it, they feel bad about it – OK, now how do we correct it? Let's talk about that. I think that was good for them."
After the 18-1 start and projected No. 1 seed in the NCAA tourney followed by the second loss of the season at Auburn, the Lady Vols have to hit a quick reset button after a defeat, which induces considerable angst among fans and redirects questions by media into the category of what happened.
A loss by @LadyVol_Hoops creates considerable angst. How does @KellieHarper react to that? #ladyvols pic.twitter.com/MZVhkN5U69

— Maria M. Cornelius (@mmcornelius) January 31, 2022
"You have to address why the loss happened," Harper said. "You don't discount the way Auburn played. They played fantastic. At the same time, one thing I always say if we're going to lose, we'd better learn from it, otherwise why'd you lose? We're going to try to learn from the loss and be a better team afterwards."
Tennessee will be happy to see its home court Monday, but it will be a brief reacquaintance for the Lady Vols with one day at home this week in between two road trips to Gainesville, Florida, and Hartford, Connecticut. The players also are back in class after nearly two months off in between the fall and spring semesters.
"This is a tough stretch," Harper said. "We're on the road quite a bit. Also, classes started this past week, and I know that's been… we've not had class in a couple months, so that's been a long week for them as well, just getting those routines back. So, I think being at home is good.
"Obviously, we love playing here. We love being in Thompson-Boling Arena in front of our fans because it's such a great environment, but when your schedule is road-heavy, you've just got to be ready to go."
Tennessee Coach Kellie Harper